Information in English - buying directly from the filmmakers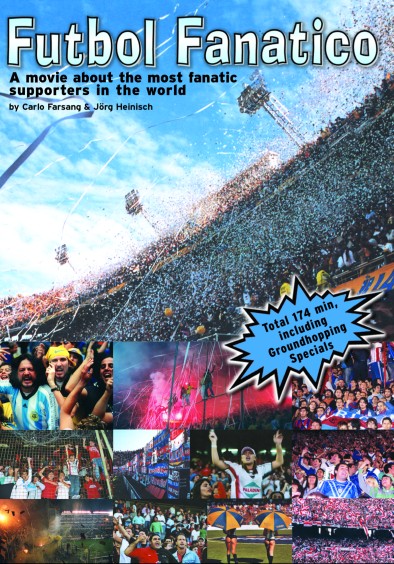 Out now! After some presentations in cinemas "Futbol fanatico" is published on double DVD. Carlo Farsang, photographer and the most famous German Groundhopper, und Jörg Heinisch, author of nine football books, have produced a fascinating double DVD about the most fanatic supporters in South Amercia and groundhopping. A must to buy for all supporters who are interested in magnificent football atmosphere and adventure. The double DVD contains totally 174 minutes, main feature "Futbol fanatico" and five additional movies with scenes from Argentina, Brazil, Germany, Poland, Belarus, Russia, South Korea, Bulgaria, Romania, Serbia, New Zealand and Seychelles. Two films have German audio commentary only, but are easy to understand for all other language speakers. The other movies do not have any disturbing audio commentary. Just enjoy by watching and listening!
Children are allowed to watch this programme from 6 years on only due to legal classification.
2 DVD "Futbol fanatico", 174 min, amaray style, sealed in transparent film, incl. all listed movies and 20-pages booklet.
The double DVD was published 10th April 2007.
The contents of the double DVD:
Futbol fanatico (Main feature, 58 min from 2006)
The passion of football supporters all over the world has different pronouncements. The most fanatic supporters can be meet in South America. Especially Argentina is presenting an visual event in colourful flags, banderols, paper streamers an confetti, completed by singing as tribute to the club. The action on the field will be pushed in the background not only for a short time. The priority of the supporters' life will be given to the football club. Accordingly the emotions on match days are erupting. This fanatic passion was known in Europe from hearsay only until now. (including Superclassico Boca Juniors - River Plate) => Trailer to "Futbol fanatico" (please click at the end of that page, 7 MB)
Extras to "Futbol fanatico"

- Outtakes / Making of (5 min)
- Presentation of main feature at "eintrachtfans.tv" (25.05.06, 24 min, in German only)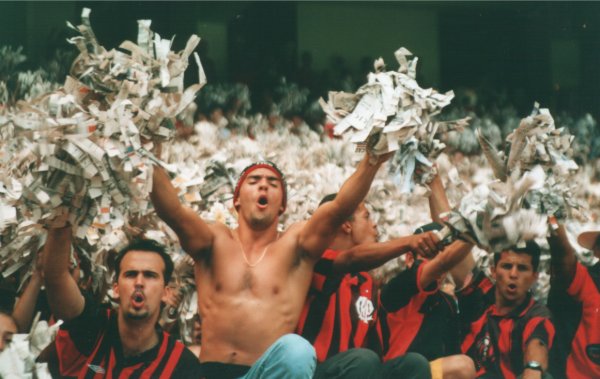 Adventure Groundhopper. If football will become addictive (NDR, 30 min from 2001/02, in German only)
Why is a German Football supporter collecting grounds and matches, travelling round the whole world and loving especially South American football? A team of "Norddeutsche Rundfunk" (NDR) has travelled with Carlo Farsang to Brazil and Argentina, directly in an adventure. A successful production that was shown round the word in the TV programme of "Deutsche Welle" and in the entertainment programme of Deutsche Lufthansa. (see photo)
To the world cup in Korea by train (25 min from 2002, in German only)
At the end of May 2002 Carlo Farsang and Jörg Heinisch started out to reach the world cup in South Korea by train. They visited grounds, matches and people along the track.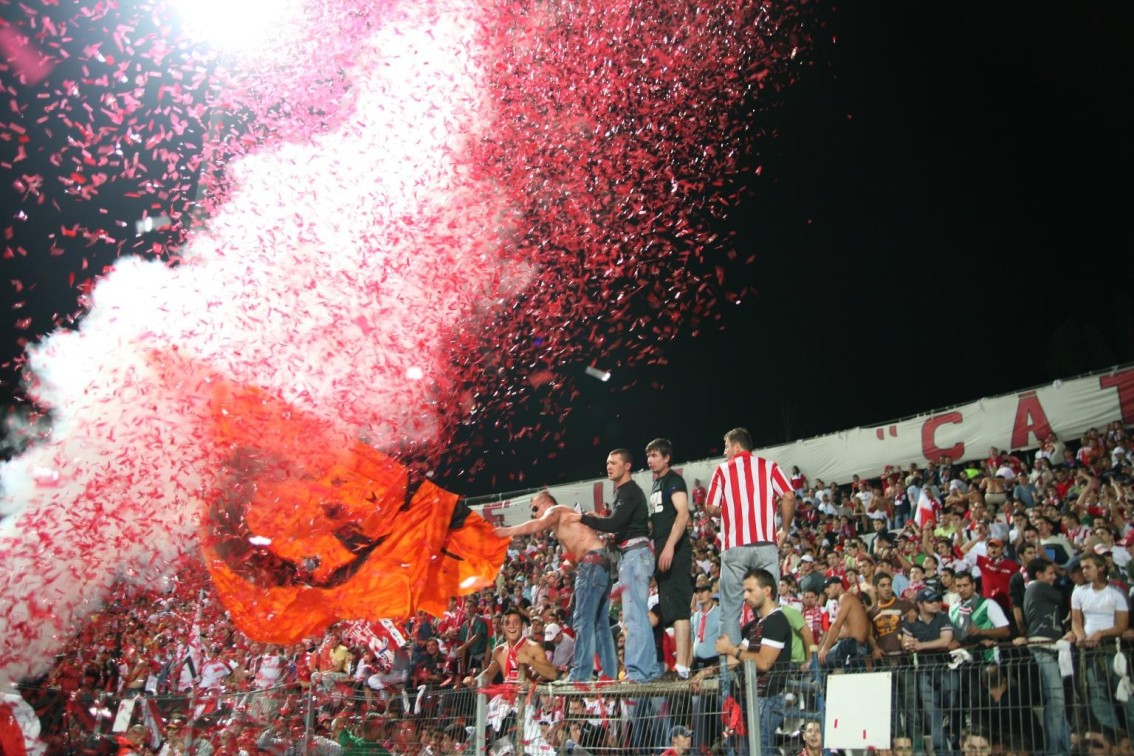 East European and Indian Ocean Classics (23 min from 2006)
"Futbol fanatico" in Europe at three East European derbies (Sofia, Bucharest, Belgrade) (see photo) plus a total different neighbourhood derby (Seychelles - Mauritius) ...
Choreographies from the Westkurve (10 min from 2003-2006)
This short movie was shown in the cinema before "Futbol fanatico". It contains choreographies from three Eintracht Frankfurt matches from "Ultras Frankfurt", one of the most active ultras scenes in Germany.
Water games (3 min from 2005)
Outtakes from a very unusual football match of the Australian football league near New Zealands Auckland.
Including 20-page booklet with Information to all movies and a lot of photos.
NEW since November 2009: plus a 4-pages coloured poster with impressions of the big finals in Argentina, Brasil, Chile and Uruguay in July 2009 plus another poster with 1 additional page from 2008.

This double DVD was presented and reviewed in "When Saturday Comes" issue #248 from 12 September 2007. German top football magazine "11 Freunde" - a nation wide supporter based magazine - reviewed the double DVD with the best score ever given by the magazine for a reviewed object!
An Interview from December 2009 with UK-groundhopper-homepage "European Football Weekends": please klick on https://europeanfootballweekends.blogspot.com/2009/12/futbol-fanatico.html

Feedback from buyers from UK:
Adrian Wright:
I really enjoyed it. I have been to Argentina and Chile a few times and its so difficult to explain to my friends here exactly what its like.
I particuarly liked the way that you showed the smaller Argentinian clubs after showing Boca and River, you really contrasted well the difference in the experiences of fans of lower and bigger clubs.
I also really admired the way you were able to present everything that was happening, being able to spot Maradona at the Bombonera or the kids sneaking into the ground at Tigre.
Excellent DVD.
GENERAL INFORMATION AND ORDERING
Such movies are not interesting for companies with the aim of profit and mainstream products. Accordingly supporters have to work on such a project by themselves. We have done it. This project is from supporters for supporters. Copy protected. The price for the double DVD has to compensate high costs for production of the movies and the double DVD.
You can order via this homepage (lower price EUR 21,90 EUR 14,90 EUR 9,90 plus mail cost) or via www.ebay.co.uk (PayPal) or via www.amazon.de. Mail cost for up to two double DVDs: to Germany EUR 1,50; to other European countries EUR 3,50
Another new option to pay: Send us your e-mail-address and your postal address and you can pay via PayPal!
OPTIONAL: DELIVERY AGAINST SIGNATURE INCLUDING INSURANCE: + 2,20 EUR
Attention: A limited Premium Edition of the DVD is availabe (via this homepage only). The "Private Premium Edition" includes a 48-pages-magazine in German language (only regarding the contents of the DVD) - for this "Private Premium Edition", whose orderer will receive an additional Bonus-DVD with over additional 100 groundhopping minutes in GERMAN, please check the German information pages or order "Private Premium Edition" and add EUR 8,00 (so total EUR 27,90 plus mail cost)
The movie poster is SOLD OUT!
If you would like to order via this homepage:
1. please transfer following information per E-Mail/contact form: (link to contact form)
a) address of delivery
b) how many double DVDs / Editions (Standard or Private Premium Edition) are your ordering?
2. money transfer (incl. mail cost) to account at Taunus Sparkasse with IBAN DE 5851 2500 0000 099 347 07, BIC HELADEF1TSK, holder of account: Joerg Heinisch.
The double DVD will be send from follwing address: FAN GEHT VOR, Joerg Heinisch, Nassauer Str. 31, 65439 Flörsheim, Germany. Orders will be handled after receipt of money only.
IT IS POSSIBLE TO PAY PER PAYPAL! Please contact us and give us your e-mail-address for paypal-activity!